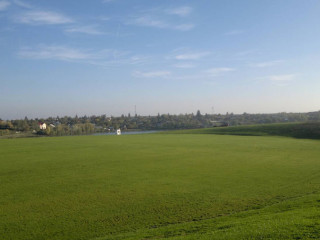 Brief
Development of a One Day International standard ground with 8-pitch square at Moara Vlasiei, 15km outside Bucharest.
TTS Solution
TTS was awarded the contract for consultancy, design and project management on recommendation from ICC (International Cricket Council) Europe and has worked closely with Cricket Romania which co-ordinated the project and local contractors. One of the biggest challenges of the project was to ensure that the contractors responsible for maintaining the ground fully understood the basic cultural practices involved in its maintenance, as they had no previous experience of having worked on cricket grounds.
Tech Spec
Particular attention was paid to the design of irrigation and drainage systems as the Romanian government has very high standards for water entering water courses and the extraction of water for irrigation. Another specific challenge was sourcing suitable materials for the construction of the ground; for the loam a Romania-wide search was undertaken, whilst a grass capable of withstanding extremes of temperature as high as +40 in the summer to -15 in the winter had to be sourced.